What Is Nanoscience and Nanotechnology?
From small things come big ideas. Nanoscience is the study of extremely small things. Nanotechnology implements these scientific concepts for a particular product or application in a given field.
"Nano" researchers integrate separate fields—like biology, chemistry, engineering, mathematics, and physics—with the aim of understanding, manipulating, and controlling these small-scale structures.
In the next decade, applied nanotechnology discoveries are expected to have a profound influence on fields as diverse as the environment, health and medicine, information technology, and transportation.
How CISNN Is Different from Other "Nano" Initiatives
A Holistic Approach
With the tremendous impact of the world of "nano" already in flux and with much more to occur in the present decade, it is imperative that a holistic approach be taken to tackle this disruptive space–in understanding not only the science and engineering of a given technology, but assessing the economic viability of such a technology, and judging the ethical, legal, and social implications of it as well.
Lastly, with the incredible development of data science techniques over the past decade, it is time to take full advantage of them in the space of accelerated discovery.
Advantages
SUNY Buffalo State is the largest comprehensive college in the SUNY system, where faculty leaders can collaborate across diverse fields in a collegial environment.
 
The college's unique location as an urban institution in Buffalo, NY, with a rich and diverse student body, and at the nexus of medical, technological, financial, policy, and data science corridors.
Diversity and Equity Focus
CISNN is fully committed to advancing a diverse and equitable research community, which is key to providing the scientific and technical expertise for U.S. scientific leadership.
A core intent of the CISNN is to recruit underserved and minority students, enabling them to take advantage of a multi-dimensional research platform (including computational studies, data analytics, and hands-on research experience) and external partners (from academic, industry, and national labs).
As an outcome, the center will increase the participation of underrepresented groups in the city of Buffalo, New York state, and the nation's portfolio of critical research areas.
Student Profiles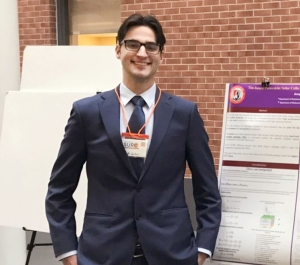 Joseph Wikar IV
Senior in Mechanical Engineering Technology
Undergraduate Researcher (Current): 
Research into Perovskite-based solar cells
Current research into alternate top materials for next-generation tandem photovoltaics
"There is plenty of room in the bottom." (1959)
Richard Feynman
|
Father of Nanotechnology